last news
06.12.2010

New site launched: DomBallBusting.com

Merciless mistresses putting their heavy palms and feet into action on their slaves' most vulnerable corners, 100% exclusive content only.

01.12.2010

We've added Paxum as a payment option

Currently we work with Ecoin, Paxum, ePayService, PayPal, WebMoney and also Check By Mail, Wire Transfer, ACH/Direct Deposit.

03.06.2010

New site launched: SubmissiveCuckolds.com

Make the most out of your cuckold and femdom traffic with SubmissiveCuckolds.com, a glam-looking, HD-content-packed hotspot for all sorts of hubby-humiliating action.

25.12.2009

New site launched: LezzoDom.com

We are excited to let you know that our brand new lesbian domination site LezzoDom.com is now officially launched.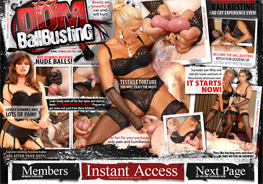 visit the site