Free Hosted Galleries are adult business' time-tested moneymakers. Custom designed for each and every site, filled with quality promo content and hosted on our lightning fast servers, these will work well for you. We also offer descriptions for these no-fail tools.

Build your own promos and benefit from our crisp-looking, surfer-inspiring free content. Be as creative and unique as you may want with free content supplied by Fetishdollars. Stand out of the affiliate crowd by making use of this material, always fresh, always free, always hi-class.

Bring your costs down and your profits up by using free hosting Fetishdollars offers you so that you can promote our sites easier. Get your own domain or get one from us. Forget about traffic redirect and ads. This is a speedy, efficient tool with MySQL/PHP support - for $0.

Our RSS-powered tools are ready to help filling your blog with quality stuff, making both search engines and your visitors happy. Concentrate on strategic things while our automated scripts do the grunt work filling your blog with content and affiliate links with your ID supplied.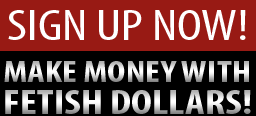 last added site what we offer you?
visit the site
100% exclusive, never-seen contentOur sites are filled with all-exclusive, niche-targeted content not available inside any other site in the world. Every episode is custom-shot for our site which really keeps the members hooked.
Cascaded billingWe employ an advanced cascaded billing system which keeps sending the visitor to secondary payment processors if the card used is declined by one of the companies.
Niche, well-made promosChoose from hosted Flash videos, video or photo galleries, text promos, banners, content in ZIPs. Need more? Feel free to request!
Free affiliate hostingPlace your free galleries and sites including top lists and CJ sites on our state-of-the-art servers ready to handle your growing sites.
Flawless affiliate supportTechnical issues? Sales advice required? Something not clear enough? We are always out there to help our affiliates with every aspect of our mutual work